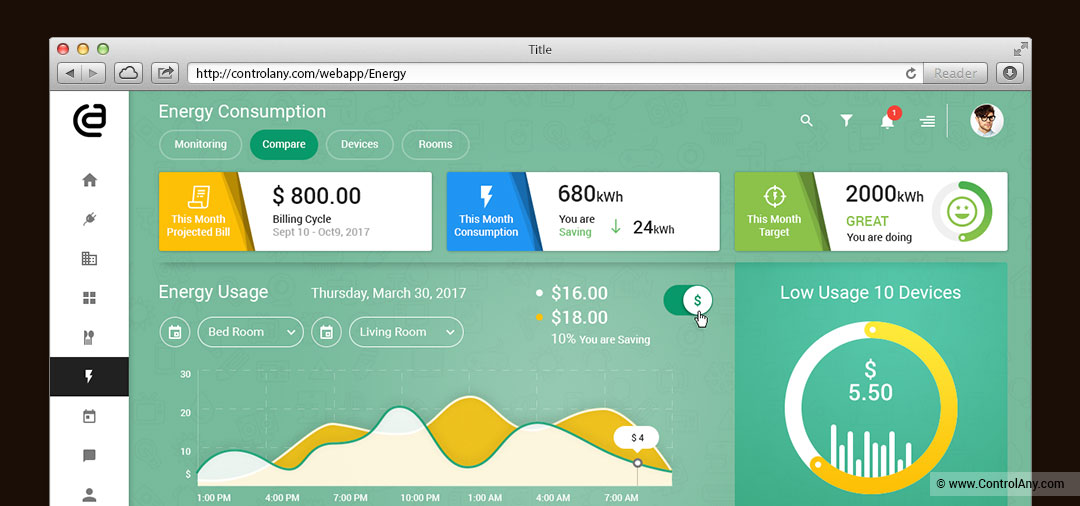 Do you have a forgetful nature or suffer from frequent absence of mind ? How many times did you leave for office in the morning with lights, fan or air conditioner ON? Such mistakes often compel individuals to pay in form of heavy pocket electricity bill. Technology now has an effective solution for such people: smart energy monitoring system.
What's the Need of Smart Energy Monitoring System?
It happens a lot many times that high electricity bill leaves us by surprise. We are often left wondering how much power is consumed by the devices that we use in our day-to-day lives. To get a satisfying answer to this question, it is recommended to install smart energy monitoring system that integrates all devices operating on power.
Real time energy monitoring is made possible by this smart system that operates on the concept of the internet of things (IoT). Such tracking of power consumption gives you a fair idea of how much energy is eaten up by each device. Such insights help in making strategies to optimize overall power consumption.
Exploring the Utility of IoT Smart Energy Monitoring System
Following pointers explain the usefulness of smart energy monitoring system:
Keep a check on number of units used by each device and plot an optimization strategy to minimize the daily usage.
Enables user in real time tracking of watts to calculate proximate electricity bill for a month based on current usage.
Gives details of daily, weekly and monthly power consumption to compare time period of maximum usage.
Highlights insights of increase or decrease in overall power consumption to let user know how good is the formulated strategy of power consumption in terms of energy saving.
Graphical representation of Watts consumed by devices presents a clear picture to an individual on power consumption.
Identifying abnormal pattern in energy consumption makes it easier for user to find out malfunctioning in appliance.
Get details about individual device or appliance's power consumption and calculated bill costs.
IoT smart energy monitoring system calculates the projected billing amount based on your billing cycle. This is based on your usage pattern till date and estimated bill if you continue the same pattern.
Allows setting usage limit as per your target and sends out notification once threshold is reached. This alerts you of increased power consumption.
On a Concluding Note
Smart energy monitoring system has unleashed several innovative ways to check a constant check on daily, weekly and monthly power consumption. This has proved effective in terms of residential as well as commercial use. The amount saved on electricity bill is not small enough to neglect.
Contact a leading smart energy monitoring system installer that can help you to automate home or office smart devices and control them through mobile phones.